SprintRay University is committed to providing high quality curriculum that educates, inspires, and ensures the quickest speed to implementation and advancement. We are dedicated to transforming dental professionals into successful digital dental leaders and empowering them to revolutionize patient care through the delivery of affordable, convenient same-visit dentistry.
Implementation Programs
On-Campus Training
1.5 Day Session
3rd Friday and Saturday of every month
Multiple Attendees
Virtual Training
4 Hour Private Virtual Session
Clinical Education Programs
We are proud to be partnered with some of the most advanced innovators in 3D Dentistry. Explore the wide array of courses from the basics of 3D printing to cutting edge facial reconstruction procedures.
In-Office Training
Up to 8 Hours
6-10 Attendees
Upcoming Educational Courses
SprintRay training programs are offered on the third Friday and Saturday of each month.
On-Campus Training with Sandi Ford
Register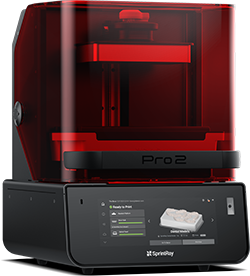 Print like a Pro!
Additional Training Resources