SprintRay University is committed to providing high quality curriculum that educates, inspires, and ensures the quickest speed to implementation and advancement. We are dedicated to transforming dental professionals into successful digital dental leaders and empowering them to revolutionize patient care through the delivery of affordable, convenient same-visit dentistry.
Implementation Programs
On-Campus Training
1.5 Day Session
3rd Friday and Saturday of every month
Multiple Attendees
Virtual Training
4 Hour Private Virtual Session
In-Office Training
Up to 8 Hours
6-10 Attendees
Clinical Education Programs
SprintRay University Cancellation Policy
All cancellation requests must be submitted to SprintRay prior to the first day of the course for a refund. A full refund of the course tuition will be granted for a written cancellation request documented seven (7) days or more prior to the scheduled course date. Fifty percent of the course fee will be refunded for written cancellation requests received less than seven (7) days prior to the scheduled course date. No refund is given once the course begins. SprintRay University reserves the right to cancel any course, limit enrollment, modify the announced content, or change the location, time, date, and faculty of any course as deemed necessary or advisable. Should SprintRay University cancel a course, SprintRay University's liability is limited to a full refund of the course fee.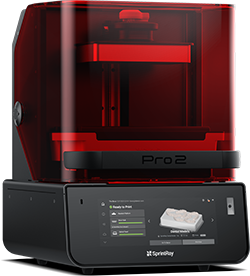 Print like a Pro!
Additional Training Resources